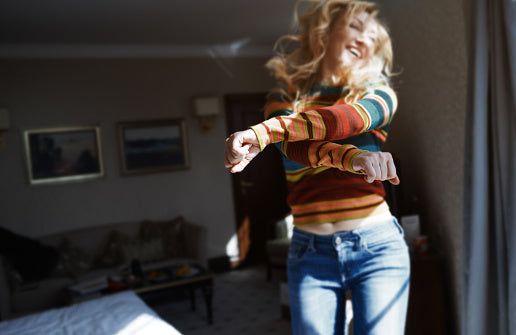 Healthy Snacks for Wellbeing
What are healthy snacks, you ask? We think it shouldn't be a very complicated to answer.  Healthy snacks should support your wellbeing, your lifestyle, and your enjoyment.  Is it possible to satisfy all of these snack ideas at the same time?  Absolutely!
One of the healthiest foods that incidentally make the best healthy snacks are legumes. Beans have plant protein, fiber, a rich set of micronutrients, and help keep you full to make the most of snacktime.  While we may be partial because we make Pro-Chi, healthy snacks that are made with lentils, it is our genuine belief in legumes that prompted this focus and leaders in the field of nutrition wholeheartedly back this belief.  If you are familiar with Dr Mark Hyman, you know how often he speaks of lentils and their nutritional significance.
We've included information not only healthy snacks you can buy, but also recipes and healthy snack ideas that you can make at home.  You will see legumes are a theme because of our passion, but variety is an important factor for your diet and for enjoyment, so take a look at these healthy snack ideas for inspiration.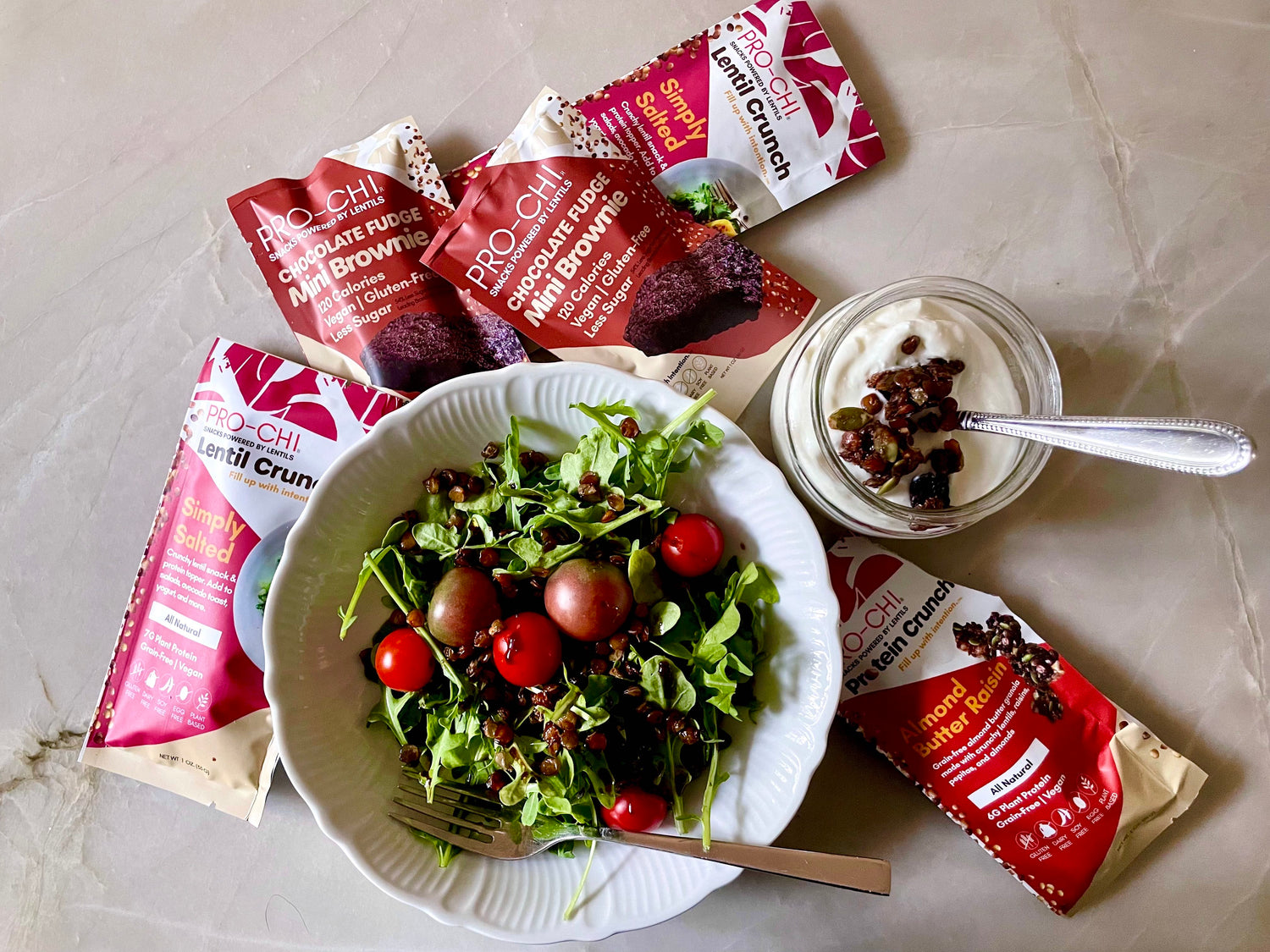 Healthy Snacks to Buy
If we take a step back, the US snack market is valued at over $29 Billion and growing – that's a lot of snacks! But which ones are healthy snacks? Millennials paved the way in terms of making healthy snacks an integral part of their daily eating habits – having snacks more frequently than previous generations and preferring "better for you" snack options. And today, those trends have expanded cross-generationally with consumers craving new healthy snack ideas.
Shop
Snackmakers tend to follow diet trends. Another keto protein bar, anyone?  That is not our philosophy.  Because we are a small business, we don't need to worry about selling to the masses and that gives us the freedom to create healthy snacks that match with our values.  All Pro-Chi Snacks are vegan protein snacks and they are gluten free snacks. They follow the longstanding tradition of the Mediterranean diet.  
Healthy Snacks to Buy
Pro-Chi Protein Crunch

A grain free granola made from organic lentils. Pro-Chi Protein Crunch is A vegan and gluten free snack, a good source of plant protein and it's low in sugar. Made with sprouted lentils, which supports digestion and increases nutrient availability. The Almond Butter Raisin is a founder's favorite.

Tru Fru 

This is a chocolate dipped frozen fruit snack that is refreshing and makes for a tasty low fat dessert. It comes in a variety of fruits – bananas, raspberries, blueberries, pineapples - and chocolate types. A convenient healthy snack to buy and you can also try making this healthy snack at home.

Quinn Snacks

Quinn makes a variety of tasty healthy snacks, but my favorite is their plant based Cheezy style filled pretzel nuggets. It's like a healthy version of Combos so it has nostalgia and a delightful crunch, which as you know, we are a big fan of crunchy snacks.
Healthy Snack Ideas to Make at Home
Surprise! For healthy snack ideas, we like to use lentils…but in unexpected ways. Lentils can often make ordinary easy recipes more interesting, just with their simple addition.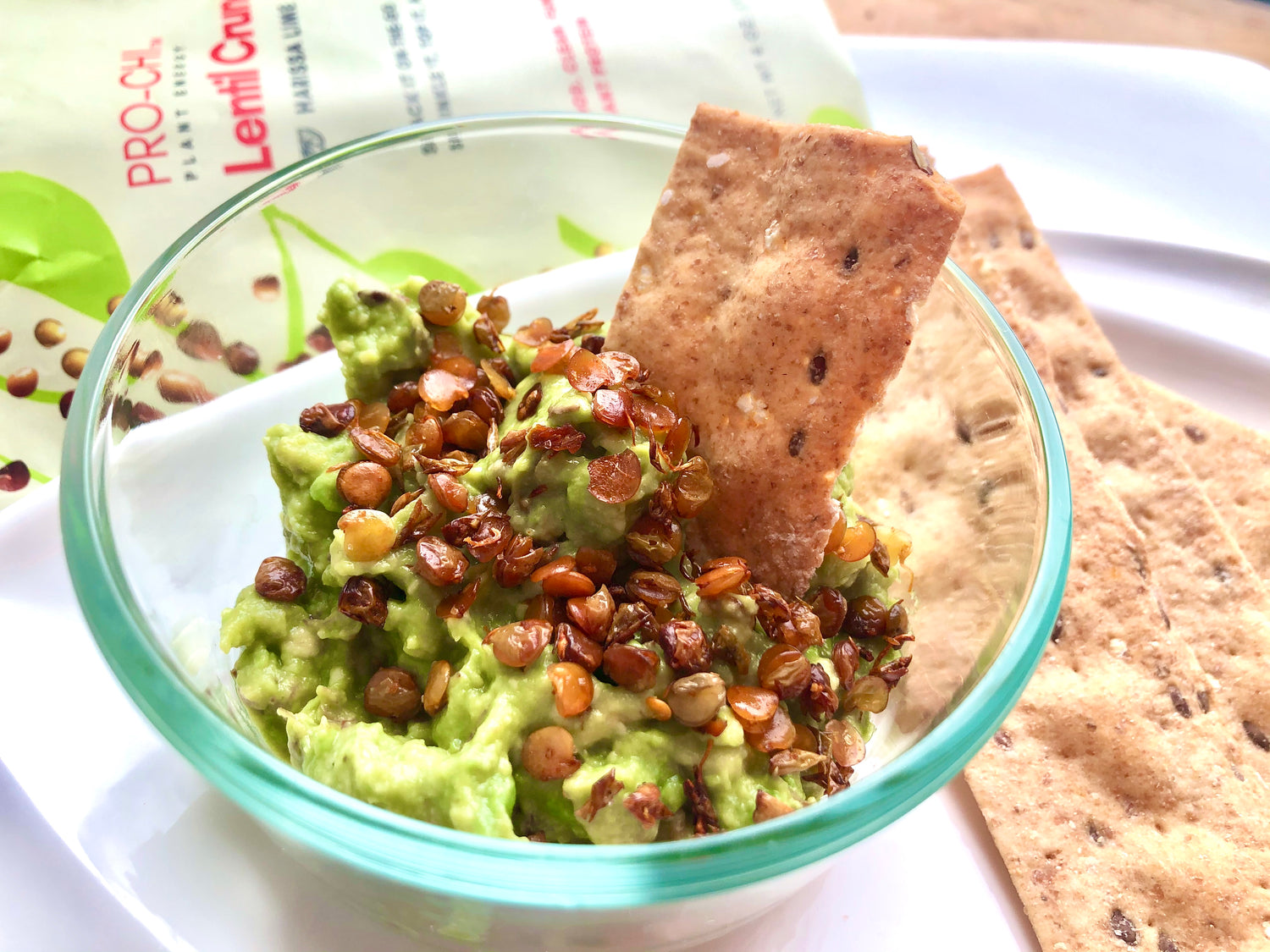 Easy Avocado Dip (Guacamole Hack)
1 Avocado, pit and skin removed
1 t. Orange juice
¼ C. Pro-Chi Lentil Crunch, Harissa Lime
Dash of salt
A few of your favorite crackers (we love Milton's)
In a small bowl, smash avocado with a spoon, stir in orange juice, half of the Pro-Chi Lentil Crunch, and salt.  Top with remaining Pro-Chi Lentil Crunch.  
This healthy dip is an effortless healthy snack and reminiscent of crowd-pleasing guacamole without any chopping required.  
Serves 1.
Protein Parfait
¼ t. Cinnamon
1/8 C. Apples, very thinly sliced into matchsticks
½ C. Vanilla yogurt (dairy or plant-based, as you prefer)
¼ C. Pro-Chi Protein Crunch, Almond Butter Raisin
Sprinkle cinnamon in the bottom of a small container, add sliced apples, top with vanilla yogurt, and then add Pro-Chi Protein Crunch on top.  
You get the protein from the yogurt and Protein Crunch and your apple for the day.  This combination is really good and highly recommended as an easy breakfast idea or healthy snack.  
Serves 1.